Quality educational leaders are never easy to identify for an expatriate appointment and Edu Alliance has a unique niche assisting a university in such executive searches. Our higher education and cultural knowledge of the Middle East and North Africa region which includes the GCC and our demonstrated success in executive search recruiting C-Level and Deans provides you with immediate access to the very best candidates.
When an institution has a preference for the individual to have Gulf or MENA experience in higher education, it takes a level of local knowledge only Edu Alliance has. Our Co-Founders and many of our consultants have served as senior university administrators and leaders in the MENA region and North America. They have in-depth experience in recruiting Deans, VPs, Provost and Presidents from US / UK to the GCC in the past two decades.
International Executive Search Process
Formulate a Leadership Profile: It is important to be able to assess and compare the leadership skills and competencies of candidates for the position being filled.
Develop Position Specification: Draft position specifications will be developed based on our discussions with key board members and Human Resources department.
Identify Qualified Candidates: A proactive search will begin to identify outstanding candidates who background meets Client requirements
Identify through Edu Alliance database potential candidates
Receiving letters of Nomination & Recommendations
If and when appropriate, advertise in targeted higher education publications
Interview & Assess Candidates to Define Strengths and Weaknesses: The most qualified candidates will be interviewed by Edu Alliance to obtain a realistic understanding of the accomplishments, capabilities and potential before presenting to the Search Committee.
Communications between Edu Alliance and the Search Committee: Will establish an agreed upon regular search schedule at the beginning of search.
Present & Interview Candidates: After initial screenings and interviews, Edu Alliance will present the appropriate materials – including Cvs and letters and best-qualified candidates. A series of interviews may occur (long list then short list). We will be responsible for communicating with candidates not moving forward in the process. Edu Alliance will have a person at each interview
Due Diligence and Reference Checking. Initial due diligence is conducted using public domain services. After finalist candidates are chosen we will check primary references as well as secondary references including the current employer.
Offer and Negotiation: After Client makes their final decision – we are willing and able to present the offer, explain it to the candidate and act as intermediary in the event of counter proposals – if required.
Follow Up: Recognizing the first year of the appointment is critical and the first 90 days can establish groundwork for success, we will speak with the appointee to see how the transition is going and assist in their transition.
Knowledgeable and Experienced Consultants
Our partners and consultants are industry leaders and experts in the field with the skills to meet the wide range of needs identified by the institutions and corporations we support. For additional information contact Dean Hoke – 502-257-1063 or Dr. Senthil Nathan +971 (0)50-613-0671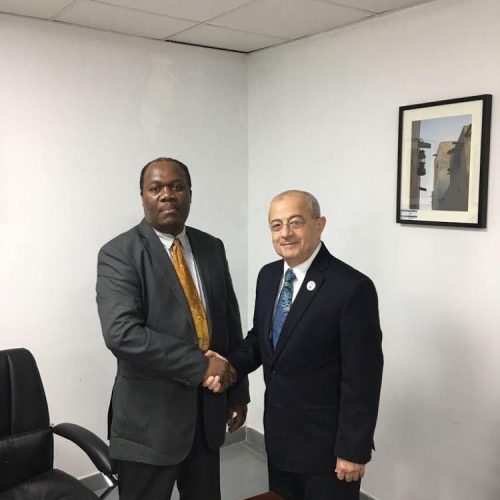 Edu Alliance is delighted to have worked with Al Ghurair University, Dubai in its successful search for a Dean of Business. Dr. Gerry Muuka brings vast experience to the position and a very distinguished career at Murray State University in the USA. Please feel free to contact Edu Alliance to discuss how can we help your university